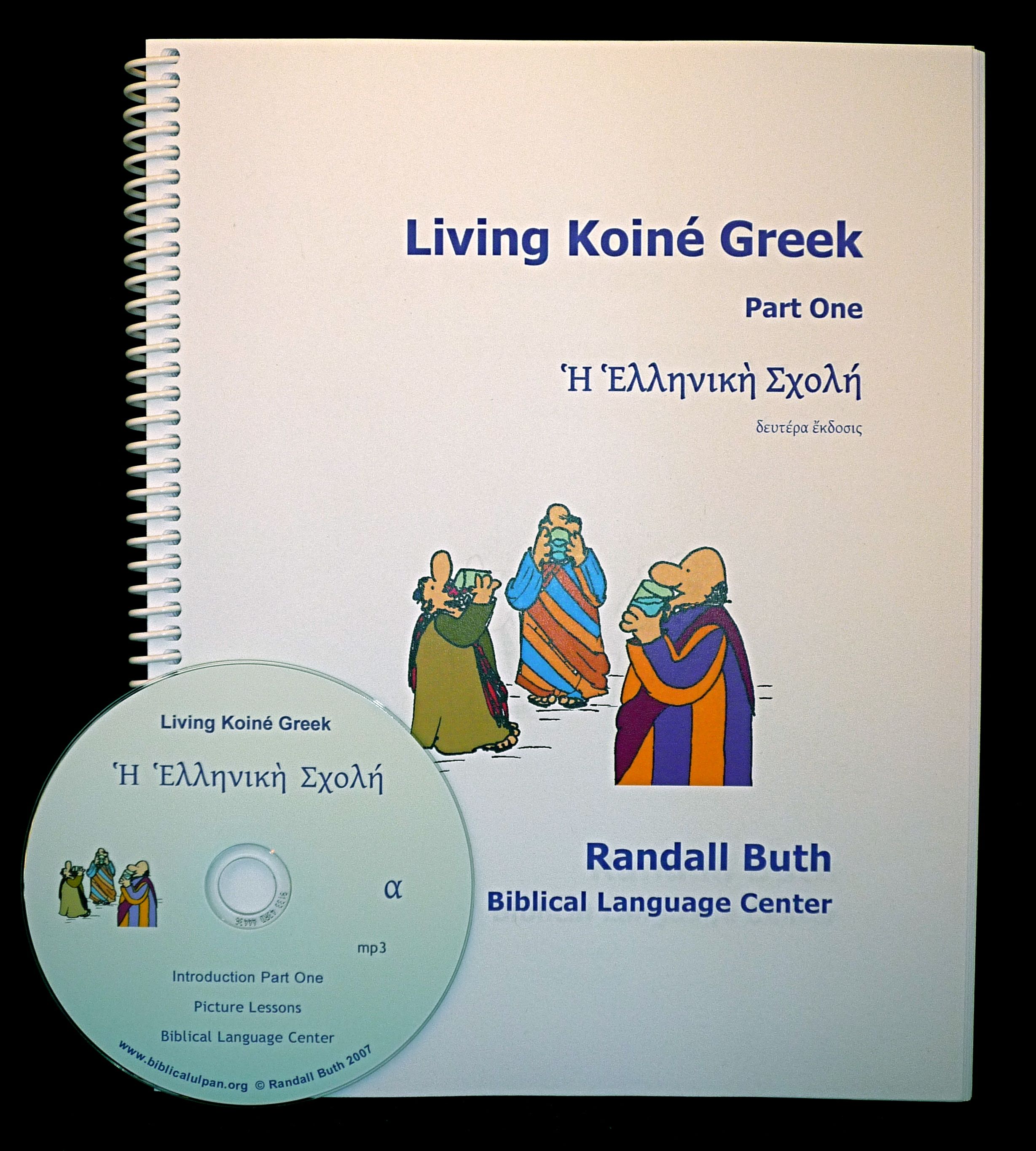 If you want to learn Greek, "Living Koine Greek" is a good place to start. Currently, there are three books in the series. This is a review of the first one.
From the moment I opened Randall Buth's "Living Koine Greek," I knew I had found something that would help me learn Greek in a new way. A short explanation of the book's method is followed by 1000 pictures, which are divided into groups of 100 for a total of ten lessons.
The Method
Each lesson in the book has its own audio track. There is no English in any of these tracks, only koine Greek. For each lesson, a description of the first picture is given once and then repeated, followed by a description and repetition of the second picture, and then the third, all the way up to the 100th picture.
Buth recommends listening through each lesson at least three times. The goal of each lesson is to be able to close your book, listen to the audio, and be able "to understand 90% of what is being described" (13).
After the tenth lesson, Buth introduces the Greek alphabet. Then he introduces how to read words. Finally, at the end of the book, there are 1000 Greek sentences. These sentences are identical to the descriptions of each of the 1000 pictures given in the audio tracks.
Here is a video of the first lesson so you can get a better idea of how it works.
Why The Method Is Helpful
If you know anything about Koine Greek textbooks, then you'll know that Buth's method is far from traditional. The method for learning Greek today typically does not place emphasis on being able to understand spoken Greek. This missing emphasis on audio, however, doesn't seem to concern many. After all, the goal is to be able to read the New Testament in Greek, not hear it... right?
Wrong.
You are able to understand this review because you are hearing it in your head. In other words, even when you read something silently, you still hear it. This is called "subvocalization". As you read through this review, you're probably subvocalizing what you read. Some people can subvocalize faster than others, enabling them to read faster (speed reading programs try to eliminate subvocalization, but this tends to cause comprehension to go down— not to mention that it's next to impossible to understand any sort of technical writing without subvocalizing!). There is, therefore, a connection between being able to understand a language audibly and being able to read it. To be truly fluent in a language you must be able to both read it and understand it audibly.
Furthermore, Buth is spot-on when he states, "When a person is fluent in a particular language, they use all of the correct forms without consciously thinking about which category a word belongs" (201). Buth also states, "Analyzing a language and translating into English, while useful in themselves and for their own purposes, do not build toward fluency" (201).
Does It Work?
I can answer this question only as a student— as someone learning Greek— not as someone who already knows it. I should note that I have some prior experience with Greek. In high school, I tried to teach myself Greek using Mounce's text. Now, in college, my class is using Croy's text. Before starting Buth's book, I also was able to give English glosses of all the words in the Greek New Testament that occur twenty-four times or more.
Although I had this prior experience, it did not allow me to speed through anything in Buth's book (except for the section on the alphabet). Learning to understand spoken Greek takes an entirely different mindset.
That being said, the time investment to go through Buth's first book is small (yet also incredibly rewarding!). The audio tracks tend to be right around fifteen minutes long. I committed to going through at least one lesson a day (some days I listened through a lesson two or three times, but that was not the norm). Doing this every day, it took me about 10 weeks to get through it (if you have no prior experience with Greek, it might take you a couple extra weeks).
I found that I needed to listen through each lesson more than the minimum of three times— and that's the great thing about the book. You can listen through as many times as you want until you feel comfortable enough to continue. It's not that the material is particularly challenging (a young child would be able to follow it), it's just that it takes some time to sink in (especially if you're only able to commit to listening through one lesson each day as I did).
Buth's book makes learning Greek enjoyable. Does it take commitment? Of course. But what language doesn't take commitment to learn?
There is no doubt that I have gained more from going through Buth's first book than I have from any other resource. I went from understanding basic descriptions in lesson one (such as "the man is eating"), to understanding geography lessons about first-century Israel in lesson ten.
Conclusion
If you're looking for the best way to learn Greek, "Living Koine Greek" is a good place to start. Buth's first book in this series is not a grammar book, nor is it an endless compilation paradigms. Instead, it's a series of 1000 pictures. If you make the time commitment to go through this book, you will be well on your way to thinking in Greek.
UPDATE (Nov. 2014): As of now, I have not yet gone through the second part in the "Living Koine Greek" series. I have also moved away from the pronunciation Buth uses in this first book and back to the Erasmian pronunciation. This is not to say that I did not like Buth's Imperial Greek pronunciation system; rather, I felt that it would be more practical to stick with the type of pronunciation used by most. I still would still certainly recommend this first book, but I think Buth's methodology could spread easier if he also recorded the material using an Erasmian pronunciation.